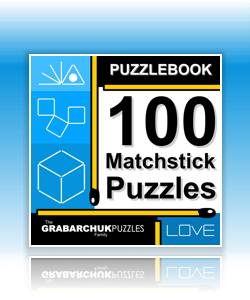 100 Matchstick Puzzles ($2.99)

What reviewers are saying
★★★★
"At such a price, even a quarter of these puzzles would be a bargain!"
--Roger Brunyate, Amazon.com
★★★★
"Another fun, challenging, and creative puzzle book to exercise your grey matter!"
--Kate Policani, katepolicani.com
★★★★
"You will find this book worth every penny you have spent and even more!"
--elizabeth, Amazon.com
All Reviews (32) >
Versions History
v1.1.23, June 14, 2012
v1.0.22, June 12, 2012
Puzzlebook: 100 Matchstick Puzzles
News
August 22, 2012: Puzzlebook: 100 Matchstick Puzzles is free for a limited time (offers ends August 26)!
More News >
Introduction
Discover a new Puzzlebook series of hands-on puzzles. The first book embraces 100 matchstick puzzles which you can play anywhere using matchsticks, toothpicks, pencils, crayons, pretzel sticks....be creative!
Hot News
Over 750,000 downloads for the Puzzlebook series! Discover why thousands of Kindle users are addicted to Puzzlebooks.
History
Matchstick puzzles are incredibly compact puzzles first popularized in the 19th century. For the past fifteen years, we've been creating matchstick puzzles. They have appeared in printed books, periodicals, contests, on the Web, and even on the radio. Now it's time for a Kindle edition!
Novelty
All matchstick puzzles in this collection are original creations by the Grabarchuk Family. They are adapted to the Kindle book format with a special Hint system.
Interactivity
You can interactively choose any puzzle from the list and navigate between the puzzles, hints, and solutions.
Hints & Solutions
Need help? Use the hints, which provide useful tips on how to solve puzzles. If it is not enough - the detailed visual answers are provided for each puzzle.
Ranking
The collection is specially created for all kinds of solvers - beginners, skillful, and expert alike. The puzzles are arranged so that you start with the easy (*) puzzles and progress to the hard (*****) puzzles.
Enjoy it in Color Too!
The book is created in full-color. Enjoy a colorful experience playing it on Kindle Fire or in a Kindle app on iOS, Android, PC, Mac, etc.
Happy Puzzling!
Trademarks
Amazon, the Amazon logo, and Kindle are trademarks of Amazon.com, Inc.