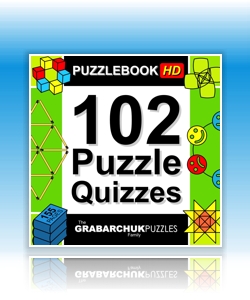 What reviewers are saying
★★★★★
"If you want to be challenged, then this is a good book for that."
--Nancy Loderick
★★★★★
"Challenge your children to a game or two. But beware. Kids are pretty sharp. If you're a kid, challenge your mom or dad to an afternoon of adventure. Have fun."
--Beverly Stowe McClure
★★★★★
"Fun and thought provoking book of puzzles that will entertain the entire family for many hours. "
--Israel Drazin
All Reviews (54) >
Versions History
v1.0.2, November 8, 2012
HD Versions History
v1.0.2, November 8, 2012
Old Versions History
v1.2.9, July 18, 2012
v1.1.7, February 2, 2012
v1.0.5, September 25, 2011
102 Puzzle Quizzes
News
January 30, 2013: 102 Puzzle Quizzes and 102 Puzzle Quizzes HD are free for a limited time (offer ends Februare 2, 2013) Featured by Free Kindle Books and Tips.
All News >
Introduction
This is the 3rd volume of the Top Rated Puzzlebook: Puzzle Quizzes series. In this brand-new puzzle collection you will find 102 pictorial, hand-crafted puzzle quizzes in different themes: logic, visual, spatial, counting, geometry, matchstick, coins, searching, and much more.
Hot News
Over 750,000 downloads for the Puzzlebook series! Discover why thousands of Kindle users are addicted to Puzzlebooks.
Novelty
All puzzle quizzes are original creations by the Grabarchuk Family and delivered exclusively for Kindle.
Interactivity
You can interactively answer and check a puzzle quiz by clicking the respective answer. Only the correct answer leads to the solution page.
HD Quality
For the first time Kindle Puzzlebook contains color high-definition images - four times bigger images compared to the previous version. Now each puzzle looks perfectly sharp and detailed with richer colors. Enjoy entire new colorful experience playing Puzzlebook on Kindle Fire, Kindle Fire HD, iPad, iPhone, Android, PC, Mac, or other devices using a free Kindle app.
Discover Version for E-readers
Do you have e-reader? Get 102 Puzzle Quizzes made specially for e-ink devices. Images are black-and-white and thus Puzzlebook works fast on e-readers, graphic is sharp and simple.
Play Anywhere!
Puzzlebook is specially designed for playing on any Kindle e-reader or tablet, as well on any other devices using a free Kindle app. Be sure to play it on different devices for more fun and comfort.
Ranking
The collection is specially created for all kinds of solvers - beginners, skillful, and experts alike. The puzzles are arranged so that you start with the easiest (*) puzzles and progress to the hardest (*****) puzzles.
Happy Puzzling!
Trademarks
Amazon, the Amazon logo, and Kindle are trademarks of Amazon.com, Inc.