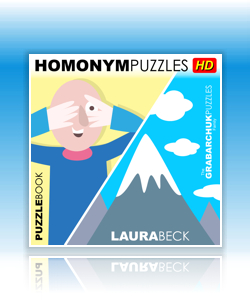 Versions History
v1.0.6, November 13, 2013
Homonym Puzzles
News
Nov 18, 2013: new Puzzlebooks are here: Homonym Puzzles and Homonym Puzzles HD.
All News >
Introduction
Looking for a fresh fusion of visual challenge and word play? Presenting a brand new puzzle form – Homonym Puzzles – in an interactive puzzle book tailored specially for your Kindle.
Background
These Homonym Puzzles were created by Laura Beck, an 87-year-old retired remedial reading teacher. Early in her career, she found that the best way to inspire her students to learn was to challenge them with games. Her favorite brain teaser? Words which sound the same but have different definitions - Homonyms.

With help from her producer (and grandson-in-law), David Goldenberg, and the professional cartoonists Benjamin Schwartz and Corey Pandolph, Beck turned her riddles into visually stunning puzzles that challenge readers to find the homonym pair linking each set of drawings.
Originality
All Homonym Puzzles are original creations by Laura Beck and are delivered exclusively by the Grabarchuk Family for Kindle.
Interactivity
You can interactively answer and check your word pair by clicking one of the options at the bottom of each puzzle page. Each option shows the first letters of the words that make each homonym pair. Only the correct answer leads to the solution page.
HD Quality
For the first time Kindle Puzzlebook contains color high-definition images - four times bigger images compared to the previous version. Now each puzzle looks perfectly sharp and detailed with richer colors. Enjoy entire new colorful experience playing Puzzlebook on Kindle Fire, Kindle Fire HD, iPad, iPhone, Android, PC, Mac, or other devices using a free Kindle app.
Discover Version for E-readers
Do you have e-reader? Get Homonym Puzzles made specially for e-ink devices. Images are black-and-white and thus Puzzlebook works fast on e-readers, graphic is sharp and simple.
Play Anywhere!
Puzzlebook is specially designed for playing on any Kindle e-reader or tablet, as well on any other devices using a free Kindle app. Be sure to play it on different devices for more fun and comfort.
Happy Puzzling!
Trademarks
Amazon, the Amazon logo, and Kindle are trademarks of Amazon.com, Inc.