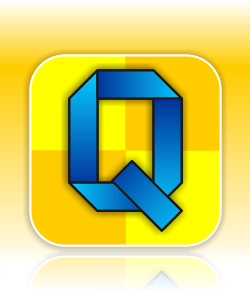 Puzzle Quizzes Deluxe ($2.99)

v2.2, January 30, 2013
Puzzle Quizzes ($0.99)

v2.2, January 30, 2013
Puzzle Quizzes:
Valentine Present (Free)

v2.2, January 30, 2013
Puzzle Quizzes Lite (Free)

v2.2, January 30, 2013
Requirements
Compatible with iPhone, iPod touch, and iPad. Requires iOS 4.3 or later. This app is optimized for iPhone 5.
Puzzle Quizzes
News
April 10, 2013: Puzzle Quizzes Deluxe for iPad is FREE for 24h only!! Selected by FreeAppMagic - 3 great free apps every day!
More News >
Introduction
Discover a new type of puzzles - Puzzle Quizzes. Solve 450 original, hand-crafted puzzles with an intuitive touch-and-answer gameplay.
Features
• 450 hand-crafted puzzles.
• Designed for iPhone, iPod touch, and iPad.
• Play in portrait and landscape views.
• Need help? Use hints.
• Time counter with pause option.
• Scores: earn stars for each solved puzzle.
• iCloud - automatic sync all your devices!
• Guest players: get your friends to play!
• Game Center achievements and leaderboards.
Video Review
What reviewers and customers are saying

★★★★★

"Really good app, both for people who want a quick work break, and for helping children understand that maths doesn't have to be a mystery all the time!!!"


--Obsessive Gamefreak, App Store

★★★★★

"Very good game. Would recommend to friends and family."


--Amber Charlie McMillan, App Store

★★★★★

"This is new set of brainteasers to awaken your senses."


--CatsnCoffee, App Store

All Reviews >
iPhone/iPod touch screenshots (click to enlarge)
iPad screenshots (click to enlarge)
Trademarks
Apple, the Apple logo, iPod touch, and iTunes are trademarks of Apple Inc.,
registered in the U.S. and other countries. iPhone is a trademark of Apple Inc.