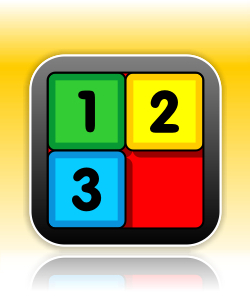 Sliding Tiles Deluxe ($2.99)

v2.1, August 10, 2012
Sliding Tiles ($0.99)

v2.1, August 10, 2012
Sliding Tiles Lite (Free)

v2.1, August 10, 2012
Sliding Tiles: Christmas
Present (Free)

v2.1, August 10, 2012
Requirements
Compatible with iPhone, iPod touch, and iPad. Requires iOS 4.0 or later.
Sliding Tiles
What reviewers and customers are saying

★★★★★

"If you're looking for a good way to stimulate your brain you will definitely be able to accomplish that easily in this set of vibrant puzzles..."


--CatsnCoffee, App Store

Read More

★★★★★

"I find the puzzles in this app really delightful, whether I can "get" them or not."


--ExcelGeek, App Store

Read More

★★★★★

"I went through the the first five puzzles not terribly impressed until I started getting stuck later on."


--Martin Hogan, App Store

Read More

★★★★★

"Unquestionably, this is one of the best puzzle apps of 2012."


--The Best iPhone, iPad Puzzle Apps and Mechanical Puzzles

Read More

★★★★★

"The idea is very simple, but the puzzles are very interesting, especially for those who like to solve this kind of puzzles, of course."


--Apps do iPhone

Read More

★★★★★

"A lot of fun for little money in high quality."


--Stephan K., App Store

★★★★★

"The best Sliding Puzzle App. These are gorgeous creations, very colorful, and excellent puzzles as well."


--Ed Pegg, MathPuzzle.com

★★★★★

"If you like sliding block puzzles, you won't be disappointed by the variety of the designs. Pieces are easy to manipulate and each puzzle looks fun and beautiful."


--Cihan Altay, App Store

★★★★★

"Pure FUN! Love the ease of being slowly challenged. Best slide puzzle. The term "slide" does not let you know that strategy and skill are required."


--phdchild, App Store

★★★★★

"Great puzzles. Lots of fun! This is an exceptionally entertaining selection of sliding block puzzles that will keep you busy for quite some time."


--Lightly Salted, App Store

★★★★★

"I downloaded this free app just to try that one, and it was TOTALLY worth every penny! :-) The free app might even be worth the 99-cent cost of the paid app, so I guess I'll blow a buck on that one and get 100 more puzzles."


--Analytical Guy, App Store

< Back

Supports iCloud and Game Center.
Video Reviews
Trademarks
Apple, the Apple logo, iPod touch, and iTunes are trademarks of Apple Inc.,
registered in the U.S. and other countries. iPhone is a trademark of Apple Inc.